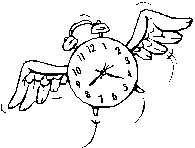 Everything remained the same - the building, the road, the city,
Only that the old times are gone to my pity,
Gone is the fun along with the good old days,
Time has run a distance, with which I lost all pace,
When I peep down into the past,
I see a lot of things that I lost,
The smiles faded with growing responsibilities,
The friends departed with promising opportunities,
Pursuing a career was the only aim,
Little did we know that life did not remain the same!
Step-by-step we went into the future away from the past,
We emerged successfully, fighting till the last.
Alas! We lost the smiles which filled life with bliss,
Career pulled us apart with that intoxicating kiss!
As we think of our friends with a frown,
Little do we realise that tears roll down,
Time has changed roaring laughter into uncontrollable tears,
So is time's game - time's reward for those lost years,
Had time not changed, it would have been much more fun,
But as we all know `Time and Tide wait for none'!