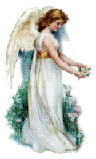 For: Tena

A golden halo adorns her crown,
And angel wings to wrap around,
Protecting her till mothers arms
Can once again, shield her from harm.

While with each waking day the pain
Returns, a mothers heart to claim.
A pain so deep within her soul
That only memories can console.

And watching down from up above,
A childs eyes so filled with love,
Reaching down with outstretched arms
To keep her mother safe from harm.