Shades of Passion

We feel confusion
Spinning in frustration
Lost in emotion
Lost in heated passion.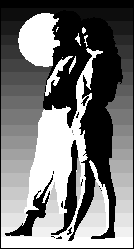 Darkness surrounds us
The light disappearing
Temptation seeks us
Resistance is fading.

Affections mutual
Satisfaction most pure
Our emotions duel
Loving caresses cure.

No one ever knew
No one ever wondered
Of the hidden desire
that passion unveiled.

Lust was the passion,
Love was our beginning.




Angelwing


&copy 1996
What's New | Quotations | Poetry Corner | Poetry Contest | Jokes |
Mystical Path | Web Team | Survey | Sponsors | Bookstore | Search | Sitemap |