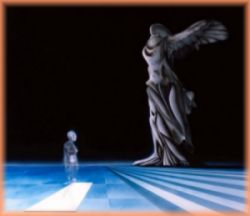 WITH WINGS SPREAD DOWN
MY TEARS FALL UPON THE GROUND.
BEING FORSAKEN TEARS FALL ALONE
TRICKLING DOWN FALLING UPON THE GROUND.
WITH MY HEAD HELD DOWN
I LOOK TO HEAVEN NO MORE.
WITH SCARS UPON MY FLESH
I HAVE BLEED FOR YOU.
FOR LIKE TEARS THEY FLOW SO EASILY
LEAVING ME ALONE
LEAVING ME SAD.
FOR WITH NO SOUL TO SHARE
MY EYES REMAIN CLOSED.
SUCH A PRECIOUS LIFE I ONCE WAS.
LONGING TO GIVE OF MY LOVE
THERE IS BUT GRIEF WITHIN MY EYE'S.
THE DESTINY OF LOVE
THE TIMING OF LOVE.
BUT IN ALL TIME
ALL THINGS MUST END.
BROKEN INTO IS WHAT I, AM,
NO SPIRIT, NO WINGS TO OPEN AND FLY.
BOUND TO NEVER BE FREE AGAIN.
ONLY SADNESS TO BE FELT
AND SUCH AGONY OF PAIN.
WHERE WAS MY PROTECTOR?
MY SOULMATE.
AMONG THE ASHES AND DUST
LIFE CARRIES ON.
FOR WHEN LIFE IS OVER
THE DARKNESS BEGINS.
NO DREAMS OF REALITY
REALITY IS OF NO RELIEF.
EMPTINESS SURROUNDS
AND ANGELS CRY WITH SUCH DISBELIEF.
FOR THEY KNEW YOU FAR BEFORE TIME.
BEING THERE TO HOLD YOUR HAND
THE ANGELS CRIED MANY RIVERS OF TEARS.
LONGING ONLY FOR YOU TO BELIEVE
THAT THE LOVE OF AN ANGEL
IS BUT THE LOVE OF GOD.
MUST YOU DEPART?
ANGELS WITH WINGS SPREAD DOWN
AND HEADS TO THE GROUND.
WITH ONLY TEARS AND BLOOD FLOWING DOWN.
LOVING YOU BEFORE ALL THINGS
PASSING THE TRUE TEST OF TIME.
ONLY TO BE LEFT ALONE,
BROKEN INTO
BEING JUST AN ANGEL OF GOD!