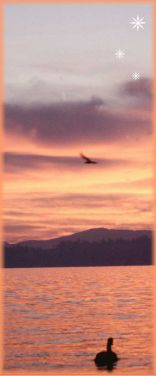 There exists a deep abyss of blackness,
Dusted with small twinkling crystals far, far away.
It is awake for a short time, and at the hour,
It drops Dawn, which breaks into a million pieces.
Yet, as Dawn shatters, it reveals its beauty;
The bright colors of orange and pink,
that surround Dawn's source of energy.
And as Dawn continues to bust and break,
You begin to see the clear blue up above.
Inside are the white puffs of cotton,
floating just out of your reach.
But then Dawn gets tired, and goes to sleep again;
Awakening the deep abyss to keep one eye open,
In order to keep watch over the world.