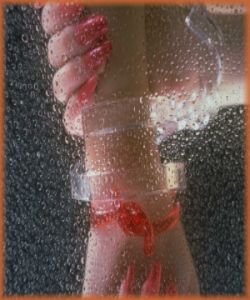 She often sports a smile.
She does it just because.
She's got her own great style.
'Least she thinks she does.

To her, a handful of friends
Contains a better worth...
Than a list that never ends
Of the goodies within this earth.

She doesn't strut around,
Nor does she stop to twirl.
All who surround her have found
She's just an okay girl.

The fact that she thinks too much
Fills her life with stress.
But the okay girl can slow the rush.
She looks okay in a dress.

She runs to the aid of her favorite few
Who can't control their fear.
And if you slow down, and listen too...
You'll hear her silent cheer.

She knows not what she does.
Some say she's just plain early.
But she's not about the latest buzz.
The rumor folk seem leery.

She will falter before she stands tall
And she'll be the first to admit it.
But the hardest part is after the fall,
Admitting the traits that precede it.

Whoever let her believe
That she was less than okay
Actually helped her acheive
The goals she meets today.

The best quality she has to share
Is certainly not her poise,
But she's good at twirling her hair
And shutting out the noise.

The okay girl can make 'em laugh...
She's got a way with kids.
She's looking for her better half,
But knows it's all amid.

Too many people don't understand.
They just let out a "sigh".
But she knows her heart like the back of her hand,
And living life is her natural high.

So many things go wrong in the world.
So many people don't try.
So many situations get twisted and curled.
But the okay girl knows why.