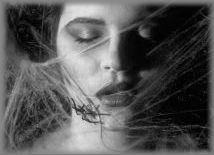 Once again down the long hard road of thorn,
Blood trickles down the sleeve below the spot the heart is worn.
Cold wind whispers outside my darkened windowpane,
As raindrops turn to fire that is burning into my brain.
So with wings bent, I have not the option to fly.
Drained clouds left without a tear to wet eyes long dry.
Today the sun has somehow lost the strength to rise,
Therefore no graceful shafts of light to caress the darkened skies.
Yet still I stand, my skin callused to the thorn,
And on the sleeve is the heart bloodied yet not and never torn.