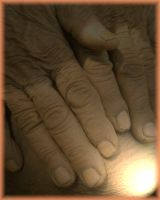 Sitting in the shadows of my mind
watching a world so undefined-
What would possess a man to take a life-
and unbelievably that of his wife?
Consumed by my reasons of sanity
Raised up in the midst of simple humanity.
What would make someone snipe out lives
Shoot images of innocence while in disguise
Withering in my soul as I see their eyes-
holding one hostage-threatening their lives.
Students killing teachers one after the other
What has happened to our love for one another
What has happened to this world I once known
Seems as if we're standing on our own
A whole nation just mounted in fear-
never knowing when the evil will appear.
A lost nation searches only to find-
the world as we knew it-staggering behind.
Now here I am alone in the shadows of my mind
Watching a world still undefined.