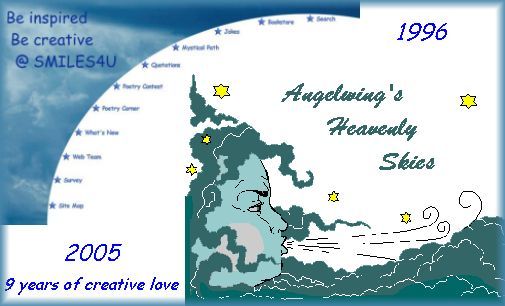 The humble beginnings of Angelwing's Heavenly Skies began on Oct 20, 1996.
Nine years no actually..it's 15 years! We have blossomed into SMILES4U that provides you poetry, jokes, and quotations. It's amazing what we have accomplished over the years. SMILES4U is a labour of creative love where inspiration is our only goal.
"As I reflect over the 15 years, my goal was to bring a positive experience to the Internet.
There is so such pain, suffering, and addictions in today's world that
we need to stop...reflect...laugh...love...and be happy with who we are.
Peace and happiness begins with you.

Time has flown by and my life has changed dramatically so my apologies to those that I couldn't find the time to continue with the poetry contests" ~ Angelwing

Thank you for visiting SMILES4U.
What's New | Quotations | Poetry Corner | Poetry Contest | Jokes |
Mystical Path | Web Team | Survey | Sponsors | Search | Sitemap |