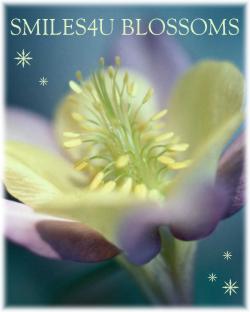 The humble beginnings of Angelwing's Heavenly Skies began on Oct 20, 1996.
It has now blossom to SMILES4U. Please join us in our celebration of 5 years of providing you a site that has touched your heart and inspired your soul.
SMILES4U took a year and half break from the poetry contests. We feel the demand is still there for another contest so let's celebrate with another poetry contest. The contest period is December 1, 2001 to January 31, 2002.
Thank you for visiting Angelwing's SMILES4U. Please subscribe to our newsletter for special poetry invitations and to stay in touch with what's new at SMILES4U. Until we meet again...
"I believe in touching the world with a kind word, a dream, and a smile.
I believe in new beginnings but most of all I believe in you.
May you always follow your heart, your dreams and your visions." - Angelwing
What's New | Quotations | Poetry Corner | Poetry Contest | Jokes |
Mystical Path | Web Team | Survey | Sponsors | Bookstore | Search | Sitemap |