Angel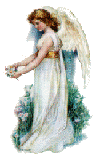 You have the face of an angel,
You are as beautiful as a queen.
You have touched me,
In a way I've never seen.

You have eyes that sparkle in the moonlight,
You are as soft as a gentle breeze.
I'll do anything you ask,
Even if you don't say please.

You are thoughtful and honest,
You are sweet and kind.
You are at peace,
With your soul, body and mind.

You have the smile of a goddess,
You are as fragile as a rose.
In time, I hope that we,
Can become real close.

You have the gift of happiness,
You are as splendid as a dove.
I want you to know,
It is you that I want to love.

Wally Baker


Orgeon, USA



1997